Export Plan
It is essential that any company that tries to start a sustainable export process can count on the help of an Export Plan, which is defined as:
A detailed description, analysis and plan of the export activities that the company expects to develop.
A sequential action plan that defines goals, goals, milestones, timelines, accountability and a budget to achieve these goals.
An instrument that can be presented to banks for support and financing.
A tool that helps the entrepreneur order, plan for the future and anticipate threats and opportunities.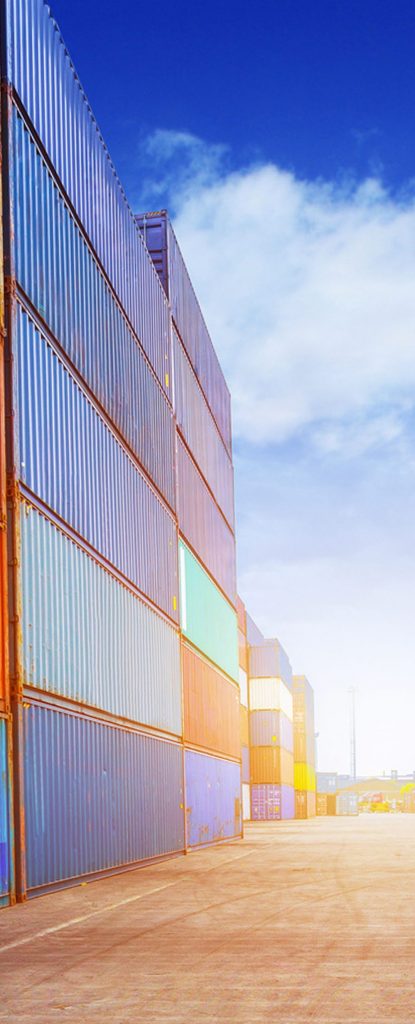 Elements and documents of export from Honduras to other countries
There are a number of elements and documents that are involved the moment an investment company wants to begin its exports and venture into foreign markets.
The purpose of these documents is to provide companies timely information for the export of their products to those markets and to provide contacts of interest. The markets covered in these studies are: the United States, Canada, Mexico, Costa Rica, El Salvador, Nicaragua, Guatemala and the Dominican Republic.
The documents included here have the following information:
Background
Generalities: Geographical Features, Demography and Society, Political-Administrative Organization, Economics, Participation in International Organizations.
Business Culture: Negotiations, Working Days and Hours, Public Holidays, Common Practices
Marketing of Products: Export Process Honduras, General Data and Current Treaties, Distribution Channels, Logistics, including transport infrastructure, General Market Requirements (Procedures and Necessary Documents for entering products, Standards), Market Specific Requirements Specific, Protective Measures, Trademark Registration, Labeling)
Taxes: Tariffs, Value Added Tax, Other Taxes.
Procedures and Regulations to which traditional and non-traditional products are subject
In order to export, different procedures must be carried out and documents will need to be filled out. These are some general and specific the procedures and regulations to which the traditional and non-traditional products are subject including the different steps that the exporter must follow prior to the export of their products.
Information about Logistics for export
Once you decide where to export your product, you must choose a means to mobilize it. There are three means by which you can transport it to its final destination, sea, land or air:
Land transportation is used mainly for the movement of products to bordering countries and as a complement to maritime transport, when moving cargo or containers to ports of embarkation.
Truck transport, given its great flexibility (door to door movement) is a generally complementary mode of the others and suitable for the mobilization of small volumes at relatively short distances. For this type of cargo mobilization, containers and refrigerated trailers and insulated containers (Con-Air System) are used. Refrigerated containers have standard dimensions 8 x 8 feet wide but can be 20 or 40 feet long.
A 40-foot container can carry a total of 23 European pallets (120 x 80 cm) or 20 American pallets (120 x 100 cm) internally, taking advantage of the container surface by 80% and 87% respectively.
Recommendations for land transport of refrigerated containers:
Pre-cool the load to be transported. (The container maintains the temperature of the load, does not increase it).
Check the container in advance to ensure hygienic conditions (odors, toxic residues, insects) as well as mechanical conditions (temperature control system).
Prevent insects from entering the container. When containerization takes place at night, insects attracted by light can enter the container and cause subsequent problems.
Pre-cool the container to the recommended transport temperature.
Avoid having the pallets in direct contact with the walls of the container, in order not to interfere with the circulation of the cold air.
The should be enough clearance between the cargo and the rear doors in order for the cool air reach the rear end of the load.
Cover most of the surface of the floor, to force more the flow of cold air to pass through the boxes and the product in its vertical direction.
Check for leaks that may occur on damaged walls and doors.
Secure the load at the rear by means of straps or locks.
Uses: Maritime transport is the main means used in international trade in all areas of production.
Advantages: It is considered the most economical and specialized means for the export of large quantities of fresh produce and any other product not necessarily edible or perishable.
Disadvantages: The high volumes that are handled in the ports generate a risk for perishable products if there is a delay. Also, in the case of distant markets, perishable products require refrigeration systems, which decreases their competitiveness by increasing the price per unit.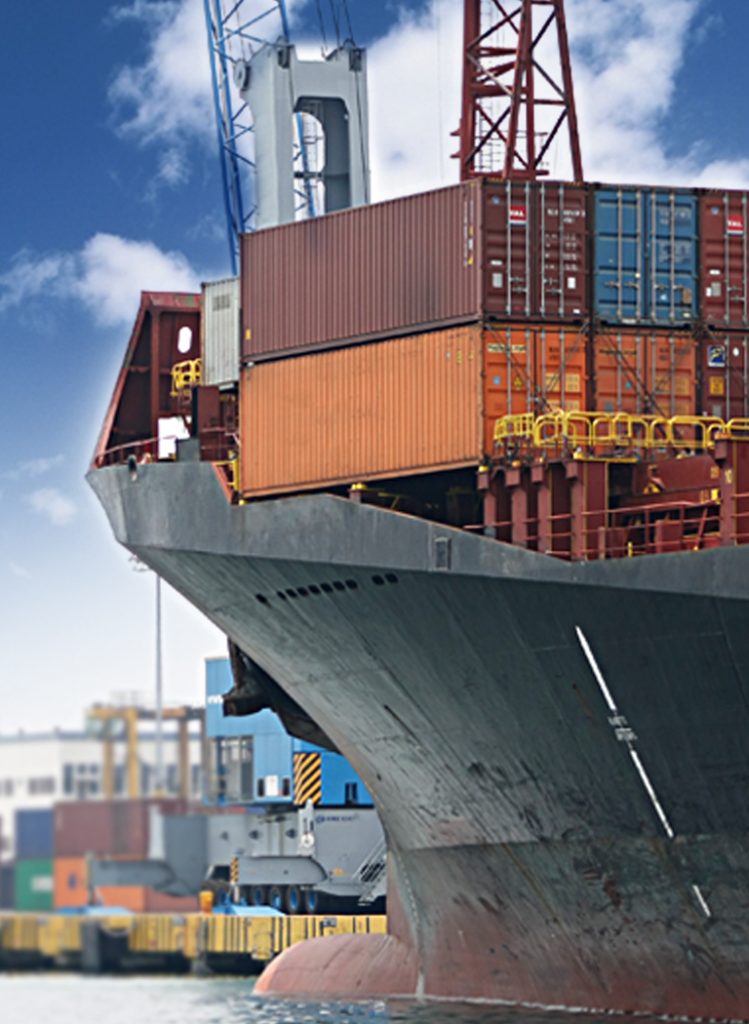 It is the channel of transport of goods from one destination to another by sea or river between ports; Shipments are made in containers of 20 and/or 40 feet each. In the event that the exporter does not have the capacity to fill a complete container, the shipment is made through consolidated loads (the loads of several companies are agglomerated) in order to keep the cost of transportation low, otherwise the cost per Unit may increase strongly.
Some merchandise requires refrigerated service, depending on the volume to be mobilized the operation is carried out in refrigerated boats (reefers) or in containers equipped with cold systems. Refrigerated vessels are generally large capacity (more than 4,000 tons) and have efficient systems for air circulation and air exchange speed control.
Container


Lenght
(meters)

Width
(meters)

Height
(meters)
Total Volume
(meters3)
Capacity
(Kg.)

Convencional 20'

5.9

2.35

2.39
33.2
21.5

Convencional 40'

12.02

2.35

2.39
67.7
26.52

Reefer 20'

5.49

2.26

2.27
28.2
21.93

Reefer 40'

11.61

2.26

2.23
58.8
28.077
The main players in the maritime transport service
Shipowner: The shipowner is the shipping company or company that is responsible for equipping, supplying, supplying, endowing and maintaining the vessel in a navigable state, in order to assume its operation and operation.
Shipowner: The shipper or shipping company is a natural or legal person whose object is to operate and operate one or more vessels owned or under his possession, even if this is not his principal activity.
Operator: It is the natural or moral person who, without being a shipowner or shipowner, celebrates in his own name the contracts of water transportation, for the use of the space of the boats, which he in turn has contracted.
Owner: The natural or legal person, holder of the real right of ownership of one or more vessels, under any legal title.
Shipping Agent: A shipping agent is the natural or legal person acting on behalf of the shipping company or operator as agent or commercial agent, and is entitled to represent its principal or principal in the freight and charter contracts.
Cargo agent or consolidator: In general, these terms are used as synonyms and refer to natural or legal persons who receive loads from different exporting companies, carrying out merchandise consolidations for their transportation, which they carry out with different means, including the maritime, for which they send shipping bills to each of their customers. Among the functions of the agents of load, we can mention:
Consolidate any volume of cargo to be transported.
Act as an international transport operator.
Inform the exporter of the most rapid and / or economic routes or means, depending on the load and destination.
Make estimates, coordinate and supervise by mandate of the user, the most appropriate means.
Carry out the customs clearance at the customer's expense.
Hire transport insurance at the client's expense.
Inform the customer about storage and distribution of cargo.
Issue and deliver transportation documents, such as:

FCR: Fiata Reception Certificate
FCT: Transportation Certificate
SDT: Declaration of Chargers for the Transport of Dangerous Cargo
DDC: Declaration of Transit Commitments
CMR: International Bill of Lading.

Customs agent: it is the natural or legal person that in professional form intervenes before the Customs in the process and steps related to the import, export, transit of goods and other customs operations.
Uses: This type of transport is necessary for the mobilization of perishable products that demand speed in its displacement such as: exotic tropical fruits, certain vegetables, seafood and others.
Advantages: This mode of transport offers a number of advantages such as speed of delivery, greater geographic coverage and higher freight rates, however
Disadvantages: It is the most expensive means of transport, it has restrictions for the mobilization of some loads and it is the one that requires the best logistics coordination on both sides of the transport chain.
Fresh produce can be sent on a cargo plane or in the area available for loading a passenger plane. The amount that can be shipped varies according to the plane and available space, being able to be up to 45 tons.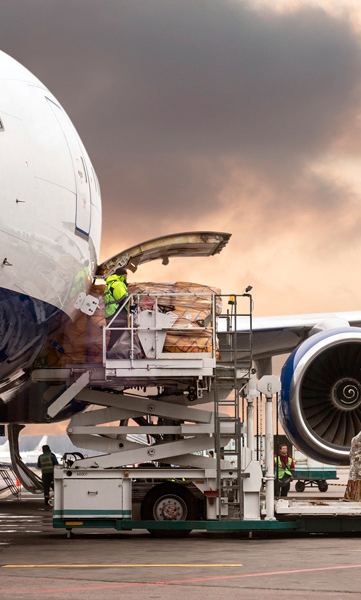 Many airplanes use container-based cargo units that fit the warehouse contours, but also carry goods in individual packages.
Fiberboard containers, coated with polystyrene foam, are also used for air freight transport. Cooling is done by using dry ice (CO2) or coolant gel.
Honduras has 4 international airports: Toncontín in Tegucigalpa, Ramón Villeda Morales in San Pedro de Sula, Golosón in the Ceiba and Juan Manuel Gálvez in Roatán.
There is international air service provided by: American Airlines, Continental Airlines, Delta, Taca and Copa. The country's airlines are Atlantic, Isleña and Sosa that offer different local services.
Among the international services we have courriers which is widely used for companies that require shipments of few quantities, usually samples, which work with the airlines directives when making their shipments.
Couriers
In order to send parcels there are several companies at the national level that provide courier services.
Tariffs for air travel vary depending on the distance, the way the service is contracted, and the size of the boarding, scheduled flights or leased flights. Each airline establishes its freight rates according to market supply and demand and is settled by gross weight or by volume, the most convenient to the airline, depending on the stowage ratio of the product.
Air Cargo Containers
Container


Max. load weight (kg)

Linear Dimensions
(mm)

Volume

Aircraft
Remarks

Reefer LD 3

1.4

1460 x 1430 x 1410

3,5
747, L-1011. DC-100, A-300, A-310, 767
Dry Ice Cooling System, CO2 (56 kg)

Reefer LD 7/9

5.45

2940 x 2020 x 1430

8.6
747, L-1011, DC-10, 707, DC-8
Dry Ice Cooling System, CO2 (91 kg)

Reefer LD 5/11

3.2

2940 x 1430 x 1430

6,0
747, L-1011 y DC-10
Dry Ice Cooling System, CO2 (56 kg)

Sealed LD 3

1.4

1450 x 1453 x 1550

4.3
747, L-1011, DC-10, A-300, A-310, 767
None

Dry LD 3

1.5

1450 x 1453 x 1550

4.3
747, L-1011. DC-10, A-300, A-310, 767
None

Dry LD 7/9

4.35

2160 x 3100 x 1550

9.91
747, L-1011, DC-10, 707, DC-8
Dry Ice Cooling System, CO2 (91 kg)

Pallet LD11

2.9

1470 x 3100 x 1550

7
747, L-1011, DC-10
Structured, contoured or rectangular
Fiberboard Containers
Contenedor


Max Load
(Kg)

Dimensions
(mm)

Maximum capacity above load (kg)

Aircraft

EH

132

920 x 560 x 560

272
All Aircraft

E

218

1070 x 740 x 650

272
All Aircraft

CO8

866

1070 x 1470 x 1140

272
L-1011, DC-10, A-300, A-310, 767

CO7

1.36

1450 x 1420 x 1450

544
747, L-1011, DC-10, A-300, A-310, 767
Pallets for air transport
Pallet


Max. load weight (kg)

Dimensions
(mm)

Volume (m3)

Max Height (mm)

Aircraft

P1P

4.5

2240 x 3180

10
1630
747, L-1011, DC-100, A-300

P6P

4.5

2430 x 3180

11(1)
16(2)
1630 (1)
2438(2)
747, L-1011, DC-10, A-300,A-310, 767

P9P

3.09

1530 x 3180

8
1630
747, L-1011, DC-10, A-300
(1) Height and volume usable on the lower deck of the airplane.
(2) Usable height and volume on the main deck of the airplane.
Recommendations for the use of air transport:
Accompany the cargo until it is delivered to the freight agent at the airport.
Products must arrive at the airport well in advance of departure time.
Depending on the airport infrastructure, the cargo must be in refrigerated areas or at least under shade.
Checking temperature and pressure conditions during transport: Cargo holds are often maintained at the same temperature and pressure as the passenger area, but on leased cargo flights this may not happen. At very high altitudes, very low temperatures and pressures can cause irreversible damage to the product by freezing.
Where possible, direct flights should be contracted to avoid delays, deterioration and economic losses. The change of the fresh product from one flight to another at the airport of an intermediate country, generates a greater manipulation, changes in the storage conditions and can even cause the loss of the shipment.